About the race
Date: 15. 2. 2020
Start of the main event is planned for 15:50 and the finals for about 17:50. The children´s races will be the first race at 14:00 – an open event for children till 16 years of age.
ČEZ City Cross Sprint Ostrava is a cross country race open to the public and an exhibition with the participation of Czech and Europe ski stars. The event takes place in the world's unique location – the technical monument – The Lower Vitkovice area. High blast furnaces, a preserved gas jug or Bolt Tower, you can see all that while visiting. The event will be attended by our leading athletes and regional celebrities. This year's race will be on a 750m long illuminated circuit built around the Gong aula.
After a very successful last year, on February 15, 2020, you will see the 8th and even better year of this unique show. The schedule is full of Czech sport stars as well as celebrities. You can even expect a biathlon exibition, air show by the Red Bull Air Race pilot Martin Šonka.
Schedule of a whole day
11:00-13:45 Registration for the race ( children, adolescents, adults) Aula Gong 1st p.
14:00 Children´s races- all categories
15:20 Announcement of the result of a children´s race
15:20 Warm up- warm up of competitors ( adolescents, adults)
15:50 Qualification- ČEZ City Cross Sprint ( Adolescents ) and ČEZ City Cross Sprint ( Adults )
16:30 Semifinals ČEZ City Cross Sprint ( Adolescents )
17:05 Quarterfinals- ČEZ City Cross Sprint ( Adults )
17:30 Semifinals- ČEZ City Cross Sprint ( Adults )
17:50 Final – ČEZ City Cross Sprint ( Adolescents )
18:10 Final – ČEZ City Cross Sprint ( Adults )
18:25 Announcement of results
18:40 The fireworks
21:00 After party Monkey Business – BrickHouse DOV
There will be a really rich accompanying program for visitors- besides Martin Šonka´s acrobatic show, you will also see Petr Kraus´s biketrial show, you will be able to try an interesting exercise and workshop on a cross- country treadmill with Colliery CrossFit Ostrava or biathlon shooting range. The Cirkus will also come a little differently ! Throughout the day you will be able to try the launch tunnel under the leadership of baseball players Arrow Ostrava, and you will also see Steelers Ostrava. Your stomach will be tested by your favourite Tech World gyroscope.
At 15:30 you can look forward to Martin Šonka and his air show over the area.
From Sunday 16 February 2020 to Sunday 23 2020 (8:00 – 21:00) the race track will be available for audience – free of charge. In cooperation with the MADSHUS and SWIX companies there will also be a ski, pole and shoe rental available. This year we've also prepared an online reservation system and online rental.
The organizers reserve the right to change the schedule and program if necessary.
Schedule of the whole day
10:00 All day biathlon shooting range for public
12:30  Petr Kraus exhibition and drumming show by Wild Stick
13:15 Autographing session of sports stars in Gong Aula
15:30 Akrobatic show of Martin Šonka
15:45 Petr Kraus exhibition and drumming show by Wild Stick
16:00 Autographing session: Arrows Ostrava (Baseball) and Steelers Ostrava (American Football) in the Gong aula
16:15 Biathlon exhibition of VIPs
16:50 Flag parade of participating states
17:00 DJ
18:25 Announcement of results
18:40 Fireworks
21:00 After party Monkey Business
Registration options:
The registration closes on Thursday, February 13rd at 6 pm. However it will also be possible to register at the venue on Saturday, February 15th at the Gong aula. The Saturday registration closes at 1 pm for both – the children´s races (the race starts at 1:35 pm) and the ČEZ City Cross Sprint (the race starts at 3:20 pm). The issue of numbers for the already registered participants will be open until 1pm as well.
The starting fee for adult athletes and juniors (U15 and older) is 100 CZK.
Categories:
babies (2014 and younger)
mini pupils (2012 – 2013)
the youngest pupils (2010 – 2011)
younger pupils (2008 – 2009)
older pupils (2006 – 2007)
younger juniors – U15 + U16 (2004 – 2005)
older juniors – U 18 (2002 – 2003)
men – women (2001 and older)
How will it look in the area

Place
Ostrava has joined the very popular city cross country skiing races in Düsseldorf, Lienz, Oslo or Karlovy Vary and will fight for the attention of sport fans for the fifth time already. It is held at a very special venue, different from those of its urban competitors. Dolní oblast Vítkovice is a former ironworks area with the complex of unique industrial buildings and the first Czech sight to be added to the European Cultural Heritage list. Visitors can look forward to the exciting race itself as well as rich accompanying programme full of sport stars and Czech celebrities. This year's first is an exhibition in biathlon!
How to get to the Vítkovice area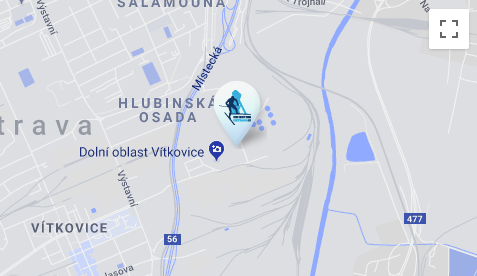 by foot – about twenty minutes from the Ostrava city center, through the Nová Karolina area, around the Ostrava – střed station
by trams – go to the "Důl hlubina" stop (main entrance) or to the "Vítkovice – vysoké pece" stop. The area is three tram stops from the Ostrava city center.
by train – to the "Ostrava – střed" station
by car – enter the area from the Místecká street (the entry is possible only in the direction TO the center, not in the opposite direction) or from the Ruská street. Parking is provided at both entrances.
How to get to Ostrava?
Train
The main destination of long distance trains in Ostrava – hlavní nádraží (the main station), from where you can take the public transport (trams number 1 or 2). The trains can also arrive to Ostrava – střed.
Bus
Go to the station Ústřední autobusové nádraží (the main bus station) which is only about 500 metres far from the venue.
Car
Follow the signs to Ostrava and then follow the map to the venue. The street Místecká is right next to the area (follow the instructions below).
Parking is possible on both sides of the area where a free monitored parking lot will be prepared.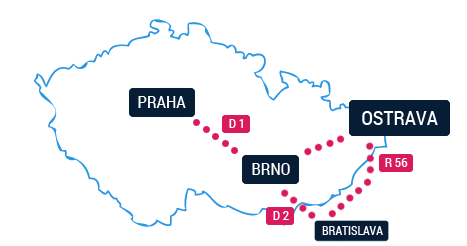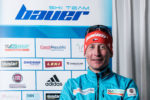 Lukáš Bauer
Triple olympic medalist, double World Champion and two time winner of Tour de Ski.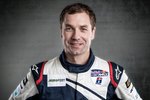 Martin Šonka
Czech National Acrobatic Flying Team member and winner of international series Red Bull Air Race 2018.

Jiří Magál
Czech cross-country skier. Bronze medalist from Olympic games in 2010 – relay 4 x 10 kilometres.